When you choose lighting for an interior design, you'll likely consider the aesthetics and functionality of the light source. In addition to a fixture's appearance, the intensity of the light source has an impact on a room's overall beauty. Its glare, heat and luminosity can also influence the comfort and performance of individuals using the lights.
With comfort and functionality as main elements that influence your lighting decision, it's easy to neglect important aspects like lighting safety, performance and energy efficiency. Thankfully, the Underwriters Laboratories (UL) take care of these concerns by providing testing and certification services for the lighting industry.
What Are UL Listings for Lighting Fixtures?
Have you ever looked closely at the tag on a light fixture and noticed a small marking with the letters "UL" enclosed in a circle?
As you examine product tags and packaging of a variety of other items, you'll see many of them have a similar marking. This marking, known as a UL listing, means the product has been tested by Underwriters Laboratories for fire safety and electrical safety. A UL lighting fixture is labeled to indicate the product has passed the specific safety requirements necessary to be used by consumers in their homes and in places of business.
Not all UL markings are the same — even though the products they label are nearly identical. There are dozens of UL listing and classification marks, and within each category are acceptable variations that product manufacturers are permitted to use.
Some UL listing and classification examples are:
UL Listed
ULC Listed
UL Recognized Component
UL Energy Mark
UL Functional Safety Listed
UL EPH Mark
Who Is UL?
Who is UL, and why are they the authority on rating the safety, performance and energy of light fixtures? Underwriters Laboratories is a not-for-profit testing laboratory that conducts tests on the quality and safety of a variety of products. As the largest testing company in the world, UL:
Maintains consistency in its testing and quality assessment procedures.
Ensures all products undergo the same level of evaluation.
Ensures all manufacturers or consumers receive a uniform standard of results they can trust.
Although this independent company has been testing and issuing safety, performance and efficiency standards for over a century, it's important to remember Underwriters Laboratories has no discretion on whether or not a product can be approved or rejected for production. Only governmental agencies can make this decision. However, many federal, state and local agencies set their own requirements for integrating products into society. In doing so, they may require that UL tests the product before it is officially approved to use.
When you look around your workspace, you'll likely find a dozen or more products, light fixtures included, that have been tested by Underwriters Laboratories. Billions of products around the world have a UL Mark — including home electronics, audiovisual equipment, plumbing equipment, information technology equipment and medical devices.
UL provides diagnostic testing services for many of the products and systems that keep us safe. They often conduct tests to determine if a product — such as food service equipment — meets specific governmental standards like municipal building codes.
What Are ETL and CSA Listings?
Not all lighting fixtures are officially UL Rated. If you discover a UL label is absent on a light fixture, there's a good chance you may find an Electrical Testing Labs (ETL) or Canadian Standards Association (CSA Group) listing in its place:
ETL Mark
An ETL Listed Mark is a certification given to products that have undergone testing through the company Intertek. Intertek is a Nationally Recognized Testing Laboratory (NRTL) with the Occupational Safety & Health Administration (OSHA), and they can use UL or ULC standards when testing products in North America. Because OSHA is the regulatory body for all NRTLs in the country, the UL label and ETL label are nearly equivocal, though it is more common to find a UL label on lighting fixtures.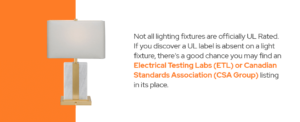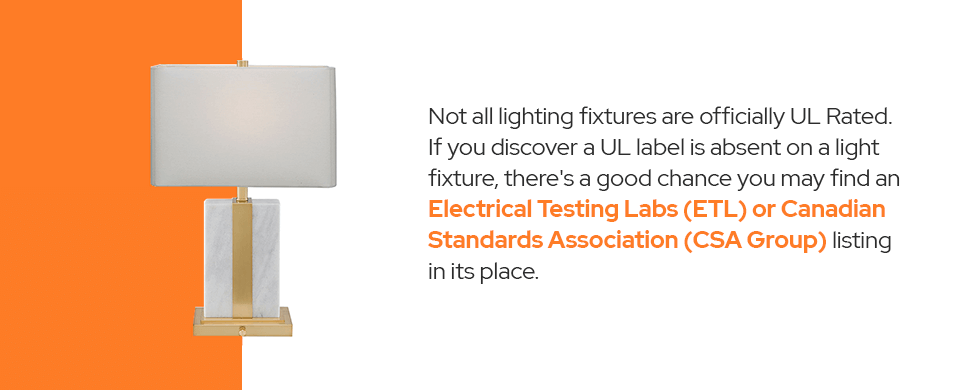 CSA Mark
Another common light fixture marking is a CSA Mark labeled by the Canadian-based company, CSA Group. Like UL, CSA Group has decades of experience providing standardized testing for products in markets around the globe. Although this company is international and doesn't receive regulation from OSHA, CSA Group is accredited by the American National Standards Institute (ANSI) in the United States.
Do Lights Need to Be UL Listed?
With so many available markings from separate entities, many individuals wonder if lights require a listing at all. Simply put, they don't. Any manufacturer can produce lights and light fixtures without undergoing testing from UL or a third-party laboratory and freely sell these products to consumers. However, many governments at varying levels require that light fixtures have UL certification when used in specific contexts. For example, you may use a light fixture in your home that isn't UL listed, but building codes may require a UL listing for light fixtures used at your workplace.
While it may not be required to use UL lighting in your home, many individuals choose approved lighting even when they don't need to. This principle is similar to choosing an FDA-approved medicine or product. Many individuals choose to use only treatment options that have been FDA approved because they prioritize safety and efficacy. Regardless, there are still alternative medications for sale that have not been evaluated or approved by the FDA. When it comes to light fixtures, consumers often choose UL rated products because they prioritize safety and efficacy.
UL Listed vs. UL Rated
A UL Mark is a product identification feature that is highly desired, if not government-required. Because the UL Mark is considered a necessity in many contexts, it's critical to understand what a UL Mark signifies.
As discussed above, there are a variety of UL marks that are tested and labeled according to different standards. Technically, there are no official "UL Rated" light fixtures. Instead, there are a variety of other terms, including:
UL Certified: This means the product has been certified under the UL Listings and Classifications services.
UL Listing: This means samples representing the product have been tested and have met defined requirements.
UL Classification: This means a sample of the product has been tested to determine if it meets criteria such as applicable UL requirements or standards set by other organizations.
UL Component Recognition: This means the product was evaluated only for use in a complete system or product.
UL Performance Verified: This means the product has only been tested against a specific performance standard, such as an industry performance standard.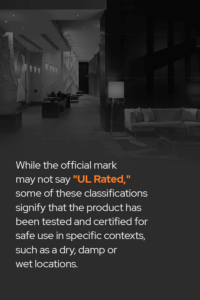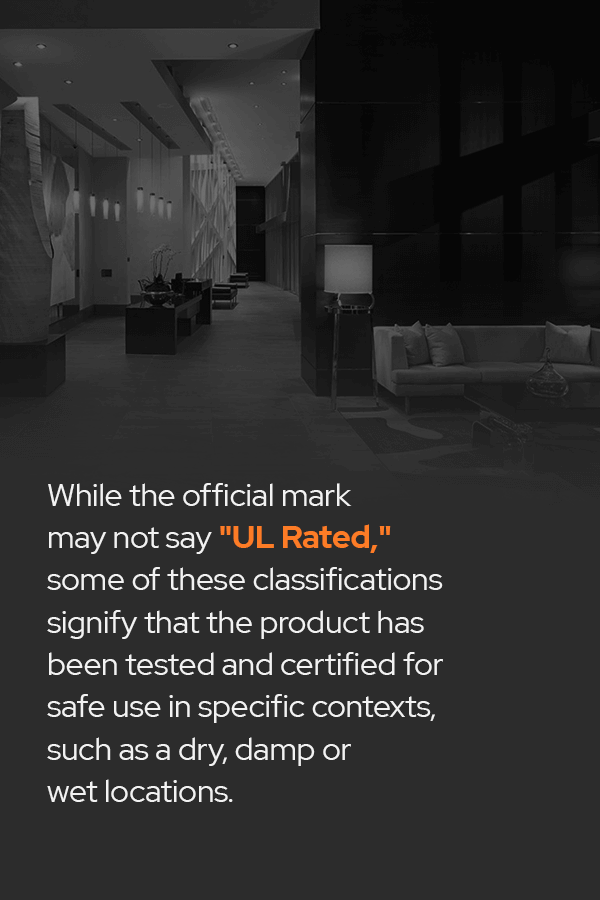 While the official mark may not say "UL Rated," some of these classifications signify that the product has been tested and certified for safe use in specific contexts, such as a dry, damp or wet locations.
How to Read UL Rated Lights
The way in which UL labels are displayed is also important, especially when choosing lighting fixtures according to local building codes. For example, no UL Certified Mark for products will ever be displayed as:
UL Approved
UL Certification Pending
New UL Certification Mark
UL QR Mark
Instead, products will be listed with the terms UL Certified Mark, UL Certification Mark, Certified By UL or Enhanced UL Certification Mark. Products may also use these approved descriptions:
"This product has earned the UL Certified Mark."
"This product is certified by UL. Representative samples of this product have been evaluated by UL and meet applicable standards."
UL Listed Marks, UL Classified Marks and other UL designations may have an approved variation of this marking, but they will never be officially listed with incorrect verbiage.
What Are the Different Types of UL Listings for Lights?
UL maintains testing and evaluation standards for a spectrum of industries and can officially label manufacturers with various UL certifications and listings. It is no surprise that there are different types of UL Listings specifically for lighting. The three different designations for UL Lighting include:
UL Listed for Dry Locations
UL Listed for Damp Locations
UL Listed for Wet Locations
UL Listed Lights for Dry Locations (Dry Rated)
According to UL Standard 1598, a product that is UL Listed for Dry Locations can be used in places that do not typically experience dampness. These light fixtures may also be used in locations that experience temporary dampness that does not cause moisture accumulation, like buildings under construction. "Dry Rated" light fixtures may be used in most interior locations as long as there is no moisture accumulation.
UL Listed Lights for Damp Locations (Damp Rated)
"Damp Rated" light fixtures are UL Listed products that have the distinction Suitable for Damp Locations. Although "Wet Rated" products, which meet more strict water-based standards, can be used in damp locations, it's important to remember damp locations are limited. A damp location is considered one that accumulates moisture or condensation frequently and is located near or on electrical components like a lighting fixture.
UL Listed Lights for Wet Locations (Wet Rated)
Wet Rated light fixtures are UL Listed products that have the distinction Suitable for Wet Locations. Unlike products with Suitable for Damp Locations labeling, these Wet Rated products can be used in interior or exterior locations, and their electrical components frequently come in contact with water or another liquid. A light fixture inside a shower or steam room would require a Wet Rated product.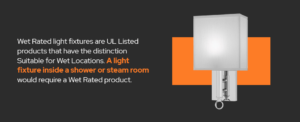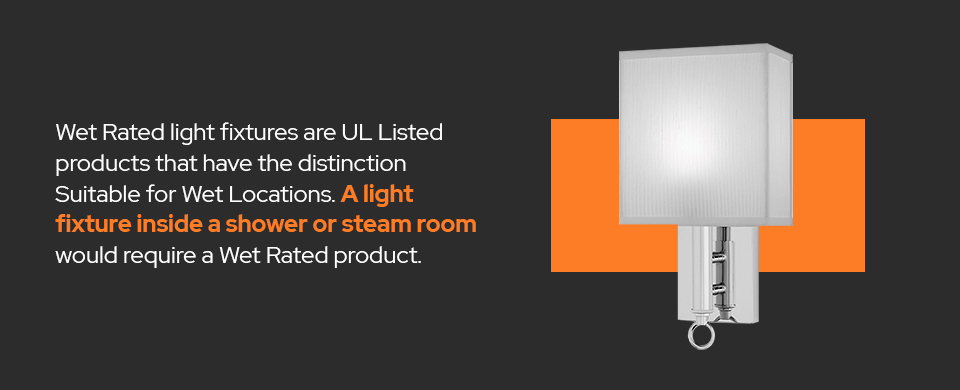 Custom UL Listed Lighting Fixtures
As you adorn a space with the flair and functionality that captures your desired aesthetic and fulfills the room's needs, we encourage you to ensure you use the safest products available. When it comes to custom UL Listed lighting fixtures, let Remington Lighting provide innovative lighting designs from our team of expert designers. We offer design, manufacturing and logistical services, which means we can bring a custom lighting design to life!
Remington is a national leader in luxury lighting for the hospitality industry. For over 80 years, our full-service manufacturing company has supplied designers and businesses across the country with the finest luxury lighting fixtures. We offer custom lighting solutions that embody all brand specifications to ensure uniformity throughout the facilities. With a reputation for delivering unrivaled quality to many of the leading hotel chains in North America, our team is fully equipped to supply exceptional interior lighting for all areas of a hotel or hospitality business.
We manufacture lighting for nearly every interior space, including guestrooms, restrooms, hallways, gathering spaces and staff multipurpose rooms. Our interior lighting selections include:
In addition to being UL Listed, all our lighting designs are ADA compliant to ensure your guests receive the level of care and comfort they deserve. With industry-leading hospitality groups like Hilton, Westin, Hyatt and Marriott trusting Remington for their lighting needs, you can rest assured you'll receive high-quality luxury light fixtures that fit seamlessly with your design.
Remington Delivers Customizable Interior Lighting
While it helps to understand why products are UL listed and why some feature other certifications, it's important to include these safety considerations in your design purchases. Underwriters Laboratories exists to help manufacturers bring the safest, most effective products into the marketplace. As you shop for customizable lighting for an interior design, be sure to look for the UL symbol on the fixture tag or light source itself.
Are you still unsure how to identify and understand UL markings? Don't worry, we're here to help! Let our team at Remington help you pick out the lighting fixtures that will keep your design safe while achieving your desired aesthetic. Browse our beautiful selection of lighting products today, or contact us so we can answer any of your questions.