Top Hotel Lighting Styles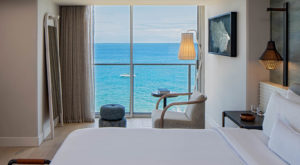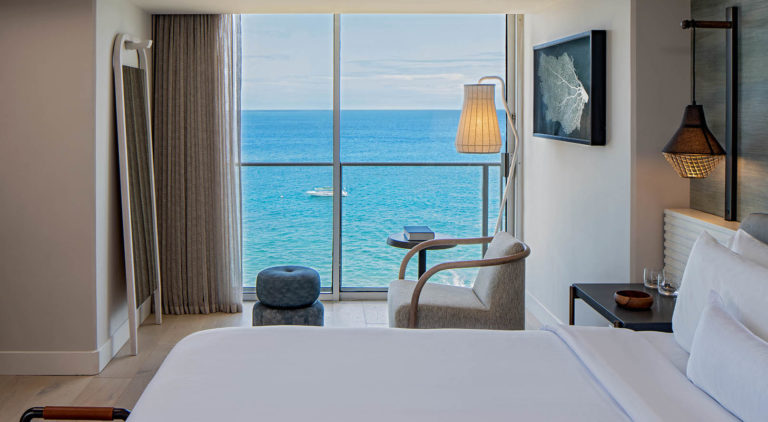 Lighting is the jewelry of a room. In addition to being practical, it complements the design and style of the space. Many design trends come and go, but some styles have proven timeless. Some of the most popular lighting styles include:
Mid-Century Modern
Traditional
Transitional
Contemporary
Modern
Art Deco
Scandinavian
Industrial
Vintage
Bohemian
Farmhouse/Rustic
Coastal
While some design styles call for subdued, subtle lighting, others make the lighting a focal point in the room. Remington has extensive experience designing high-quality lighting across all interior design styles.
1. Mid-Century Modern Lighting
The mid-century modern (MCM) style developed from an artistic movement that took place roughly around the mid-1930s to the mid-1960s, although some would argue it's more closely tied to the post-war era from roughly 1947 to 1957. The style is often referred to as "a look back at the future" because designers of the time were inspired by visions of what they imagined future style could look like.
The mid-century modern style is characterized by its clean, simple, and functional design. Lines are often angled or geometric. There is also a focus on being integrated with nature, which is demonstrated in rooms that have large glass windows and multiple views of the outdoors. Warm colors, like olive, mustard, and orange, are common. The natural colors of wood are often present, as well.
Mid-century modern relies heavily on using and appreciating different materials for what they are, including metal, glass, plywood, and vinyl. These materials, paired with organic wood and a warm color scheme, transform a room into a sleek-looking space.
Mid-century modern hotel lighting design combines retro flair with modern sophistication. MCM lighting has become the perfect lighting selection for many types of interior design styles. Lighting in a mid-century modern-inspired room needs to stand up to the rest of the room's furnishings and act as a focal point, rather than fading into the background.
2. Traditional Lighting
18th and 19th-century European design. Traditionally styled rooms have withstood the test of time. This is because the traditional style is familiar and often feels casual, relaxed and comforting, yet still warm and classic.
Traditional style can differ vastly from one interpretation to the next, as much of its key elements depend on the part of Europe the designer is drawing inspiration from. For example, picture the differences between the vibrant oranges and browns of Tuscany and the floral, airy blues of French Country.
Typical materials include marble, brass, and wood. Curved lines and patterns are essential in traditional styles. Velvet and silk are often used to add a level of elegance. The idea behind traditional design is to tell a story, often inspired by Old World culture.
Regardless of the region of inspiration, traditional rooms can feel elegant and charming, yet functional. Traditional style lighting design is often intricately designed with layers or fine crystal. Marble, brass, and alabaster are commonly found in traditional lamp bases. These accents are usually jewel-tone hues or bold patterns like florals, damask or paisley. Other popular colors include a neutral color palette, soft greens or blues with warm wooden tones.
While one end of the traditional spectrum focuses on relaxed, casual, soft lines, the other side showcases regal, elegant furnishings. The traditional style has a deep emphasis on symmetry, with a specific focus on creating matching pairs throughout a room. Traditionally designed rooms usually have a strong focal point — in hotels, this could be a fireplace, television, art piece or light fixture.
Traditional hotel lighting design often features fabric shades in neutral colors, like ivory or cream. Lamps and wall sconces often boast attractive shapes and defined silhouettes.
3. Transitional Lighting
The transitional style marks a time when interior design moved from the traditional towards the modern, combining classic elements of the two. Because these two ideas can appear separated, this transitional style often implements a "common thread" that links each element of the room together in a cohesive way. Transitional rooms evoke a feeling of classic timelessness, but with traces of the unexpected.
Transitional style features a lack of color and a strong focus on a neutral palette but with unexpected textures and unique pieces that showcase personality. Some popular textures found in transitional styled rooms include wood, fabric, steel, glass, and lacquer. Furniture is designed with a combination of traditional curved lines and the straight lines found in modern design. There is a lot of equality and balance in transitional design — objects are typically the same size as one another, and the room is as much feminine as it is masculine.
The key to transitional lighting design is to juxtapose it with its surroundings. For example, if there's a lamp in a part of the room that is otherwise traditional, the lighting fixture should reflect more modern elements. Popular trends in transitional lighting include wood mixed with fabric, as well as exposed lightbulbs and sleek metal finishing.
4. Contemporary Lighting
The definition of contemporary style is continuously shifting. However, due to the constant focus on simplicity and straight lines, contemporary style rooms rarely feel dated or out-of-touch. Contemporary rooms are fresh, timeless, youthful and bright — never harsh or cold. A successful contemporary room allows its guests to feel calm, serene and refreshed.
The contemporary style features tone-on-tone colors with a heavy emphasis on brown and white neutrals. Surfaces are typically smooth and free of unnecessary detailing. Texturally, contemporary style infuses metal, stainless steel, clear or frosted glass, stone or light-colored wood.
Contemporary hotel lighting design is all about making a statement while maintaining an ambient atmosphere. This is done using out-of-the-way lighting fixtures, such as track lighting, recess lighting or mounted lamps. Lighting is also used to serve a purpose in contemporary style, whether that be to accent another part of the room or help your guest complete a particular function.
Contemporary lamps reflect the style of the room — sleek and straightforward, but drawing on the metals and woods implemented elsewhere in the design.
5. Modern Lighting
Although modern and contemporary styles are often confused for one another, there are some key differences. Scandinavian and German roots heavily influence modern design. Similar to contemporary, though, modern design is simple, minimalist and neutral. Decorative pieces usually serve a function.
At first glance, modern design can appear void or uninviting – but if done well, modern rooms are just the opposite. They are freeing and airy, making use of open space and straightforward pieces.
Modern style is inspired by the earth, opting for touches of wood or earth-tone colors for accents. Aside from these key features, modern rooms tend to be monochromatic or white with monolithic fabrics and organic geometric shapes.
Modern hotel lighting design uses simply shaped shades, sometimes decorated with a bold pattern or vibrant color to add interest to the room. Because modern style rests so much on minimalism, task lighting is popular as well. Due to the restrictive nature of the minimalist style, modern design lamps and light fixtures rest on the ability to create pieces that are both creative and interesting but also serve a practical purpose.
6. Art Deco Lighting
Art Deco is one of the most recognized and beloved design styles today. Originating in the 1920s, Art Decor integrated itself into European and American culture throughout the 1930s. The name "Art Deco" comes from the Exposition Internationale des Arts Décoratifs et Industriels Modernes in Paris, where the style was first debuted in 1925. At the time, Art Decor represented a marriage of modernism with bold fashion.
Ornate, excessive pieces characterize this "Gatsby-esque" design. Colors are rich and jewel-toned like deep reds met with shimmering golds. Lines are sleek, symmetric, zig-zag and geometrically shaped. Parallel, curved lines are often seen woven through Art Deco pieces. Reflective, opulent materials — such as metallics, glass and mirrors — play a large part in Art Decor. Other textures, like metal and marble, are also prevalent.
Art Deco is an embodiment of 1920s grandeur, and the lighting reflects that. In an Art Deco hotel lobby, you will usually find an oversized, embellished chandelier. In individual rooms, torchieres and wall sconces are popular options. Lamps with shades are often fringed or tasseled and shaped in non-traditional ways.
7. Scandinavian Lighting
Scandinavian design is so much more than pieces from IKEA and a desire to embrace "hygge." The style came about in the 1950s and is closely tied to modernism. Among the tenants of Scandinavian design are a desire for democracy, affordability, clean lines, and functionality. Given that the countries (Norway, Sweden, and Denmark) where Scandinavian style developed are cold and dark for much of the year, the style also focuses on creating feelings of comfort and coziness in a room while also enhancing light and brightness.
Scandinavian design is often compared to mid-century modern design and is sometimes used synonymously with MCM. But there are distinct differences between the two. Scandinavian style focuses on maximizing light, while MCM is comfortable with darker colors. The color palette for Scandinavian design features a lot of neutrals, particularly white and light tans. The design often includes pops of color, but bright colors are always used as an accent, never as the focus of a room. Another highlight of Scandinavian design is the use of new materials, such as plastics, to produce organic, curved pieces.
The design's focus on light and brightness is easily seen in Scandinavian lighting. Scandinavian pendants, chandeliers, and light fixtures are typically designed to produce the greatest amount of light and to allow the light to spread through a room most effectively. Pendant lamps that hang from a ceiling and directly illuminate what's underneath and floor lamps with curved lines and a task light are common examples of Scandinavian lighting.
8. Industrial Lighting
After the industrial revolution ended, factories began closing, and those buildings fell into neglect. This abandonment happened around the same time that cities began seeing a population boom, resulting in a housing shortage. The solution was clear — transform these abandoned industrial buildings into residential space. Rather than covering up the conventionally unattractive parts of these buildings — like exposed bricks, pipes and air ducts — residents and designers embraced those details.
Modern industrial design has since grown into a popular decorating trend that shows no signs of slowing down. Modern industrial-style rooms feel raw and edgy but also natural and comfortable. They juxtapose differing shades of brown wood with stone, brick, pipework and metals. Popular metals in modern industrial design include iron, steel, tin and copper.
Modern industrial-style hotel lighting design often includes weathered-looking pieces and uses reclaimed lighting when possible. Lamp bases are usually made of metal and may even be shaped to look like pipes themselves. Edison bulbs have become the modern industrial go-to. Standing lamps are often multi-directional, sometimes omitting shades altogether to mimic the raw, exposed nature of the style. If you do opt to use a lampshade, considering choosing something low hanging and wide.
9. Vintage Style
The nuances of vintage design are difficult to pinpoint because there are multiple interpretations of what "vintage" is. For some, vintage design harkens back to the charm of the 1950s, while others may associate it with the Victorian era. Generally speaking, vintage-style design should reflect some part of the past. Because of this, vintage style can often overlap with other style movements, such as European or mid-century modern design.
Many hotels draw inspiration from the romantic style of vintage design. Romantic vintage uses soft colors, including beige, blues or pinks. Furnishings are feminine and elegant, with curved lines and antique finishes. Minor furniture blemishes, like scuffs and cracks, are embraced for their authenticity. Romantic vintage uses organic materials that would have been used several decades ago, often straying from modern materials like plastic and plywood. Wood, iron and natural fabrics are common.
Romantic vintage-style hotel lighting design may use wrought iron and other metals, shaped into intricate and delicate designs. Chandeliers are popular lighting choices in romantic vintage design.
Another popular type of vintage design recreates the nostalgia of recent decades. This could take the form of a brightly colored 1970s room or a fun throwback to the 1980s. Lighting should be indicative of whichever period you choose.
10. Bohemian Lighting
Bohemian design (aka "Boho") is all about the mixture and marriage of different textures, patterns, and colors. The design's sensibility dates back to the mid 19th century and was part of the Romantic movement. Initially, the term "bohemian" had a negative connotation and was used to refer to and dismiss Romani from Bohemia (part of what's now the Czech Republic). But then, artists began moving into areas of Paris where gypsies traditionally lived. Those artists were hoping to escape from the trappings of bourgeois life, by pursuing beauty and creativity in place of wealth and status.
Bohemian design is all about color, eccentricity, and the mixing and matching of cultures. In a boho room, you might find a faux-fur blanket strewn across a bed with woven tapestry used as a coverlet. Boho design also relies heavily on patterns, particularly patterns with a global flair, such as ikat, jungle-patterns, and Persian rugs. The color palette is often earthy while incorporating jewel tones and metallics. Generally speaking, bohemian design has a well-worn, lived-in look, which connects back to those original Parisian artists who were discarding the comforts of a wealthy life for a cash-strapped existence.
Bohemian lighting incorporates the earthy, multicultural vibe of the design. Lighting is often understated and ambient. Lanterns, table lamps, and candles are usually preferable to overhead lighting. Details on boho light fixtures might include a table lamp with a raffia lampshade, a pendant lamp made from terracotta or woven rattan, or a punched metal lantern with a distressed finish.
11. Farmhouse/Rustic Lighting
Farmhouse/rustic design is a more recent trend, but it's one that is quickly growing in popularity within the hospitality industry. Many designers favor the rustic style for the warm, cozy atmosphere it creates. Rustic-style hotels are especially popular in rural tourist destinations or lodge-like establishments.
Rustic style uses wooden beams, upholstered furniture, and plenty of natural material. Neutral colors are the standard choice for rustic decor, but thick, patterned fabrics are used to add texture and interest to the room. Mismatched furniture is not uncommon. Flaws — such as uneven wood grain or chipped paint — are highlighted for their natural, handmade feel.
Much of the rustic charm rests on the "homegrown" quality of the design. Lighting should reflect this. When choosing or designing a rustic lamp, stick to natural materials, and avoid perfect, straight lines. For the base, oak, cherry, and mahogany are popular choices. Designers often use galvanized metal and linen in lampshades. Similar to modern industrial, reclaimed lighting is also a great option.
12. Coastal Lighting
One way to describe coastal design is "beachy." It is much more than the nautical or Mediterranean style people often mistake it for. Coastal design tends to bring the outside indoors and to focus on soft colors, a clean aesthetic, and natural light.
Textures you're likely to encounter in coastal design include jute and linen while the color palette is likely to lean toward white, blue, and earthy tones. Light is also a crucial element in coastal design. Since the goal is to bring the outside in, rooms often feature large windows and skylights. Blinds, curtains, and other materials that would block the light are usually not part of coastal design.
Coastal lighting tends to be dramatic and eye-catching, with light fixtures leaning towards the sculptural and polished. Light fixtures are also likely to incorporate natural textures, such as rattan or jute. Table lamps might be made from a textured ceramic, while overhead fixtures might resemble glowing orbs or traditional candelabras. To maximize light in a room even when it is dark outside, coastal lighting often takes a "the bigger, the better approach." These styles have increased and decreased in popularity over recent decades because the hospitality industry is constantly changing.
Customizable Interior Lighting From Remington Lighting
No matter what style you're going for, Remington Lighting can produce the perfect fixture to enhance your creation. We have an extensive collection of products, each of which we can customize to meet your unique needs. We also offer products that are pre-approved to meet the brand standards of some of the biggest names in the hospitality industry.
To learn more about our interior lighting products and how we can help you bring your design vision to life browse our website or contact us today. We love using our imagination and can't wait to hear what you have imagined.